Posted on
By Chips Fashion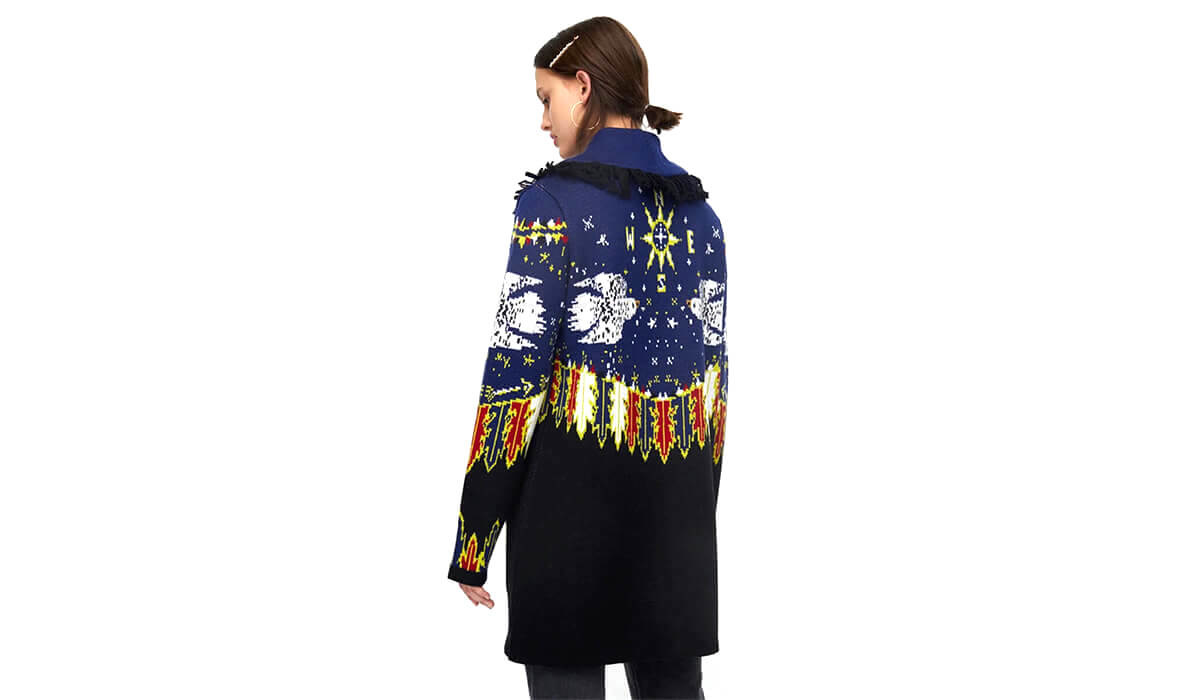 Anyone can be normal. What we want is extravagance, exclusivity and eccentricity. Because winter doesn't have to be dreary and gray - instead we celebrate the cold season with extravagant knitwear and fancy sweaters.

Anyone can be normal. What we want is extravagance, exclusivity and eccentricity. Because winter doesn't have to be bleak and gray - instead we celebrate the cold season with extravagant knitwear and fancy sweaters.
Unusual knitwear for every occasion
The days are getting shorter, the nights longer and the temperatures are falling again - it's finally winter again! A great opportunity to finally slip into our warm and cozy sweaters, cardigans and cardigans again and enjoy the cold season with bright colors and unusual materials. Regardless of the occasion, whether in the office, in your free time or during the holidays - knitwear is simply chic! Fancy pullovers, hoodies, jumpers, cardigans and coats always fit every occasion. And the best thing about Ibiza-style knitwear? They not only keep you warm, but also bring you stylish and colorful through everyday life.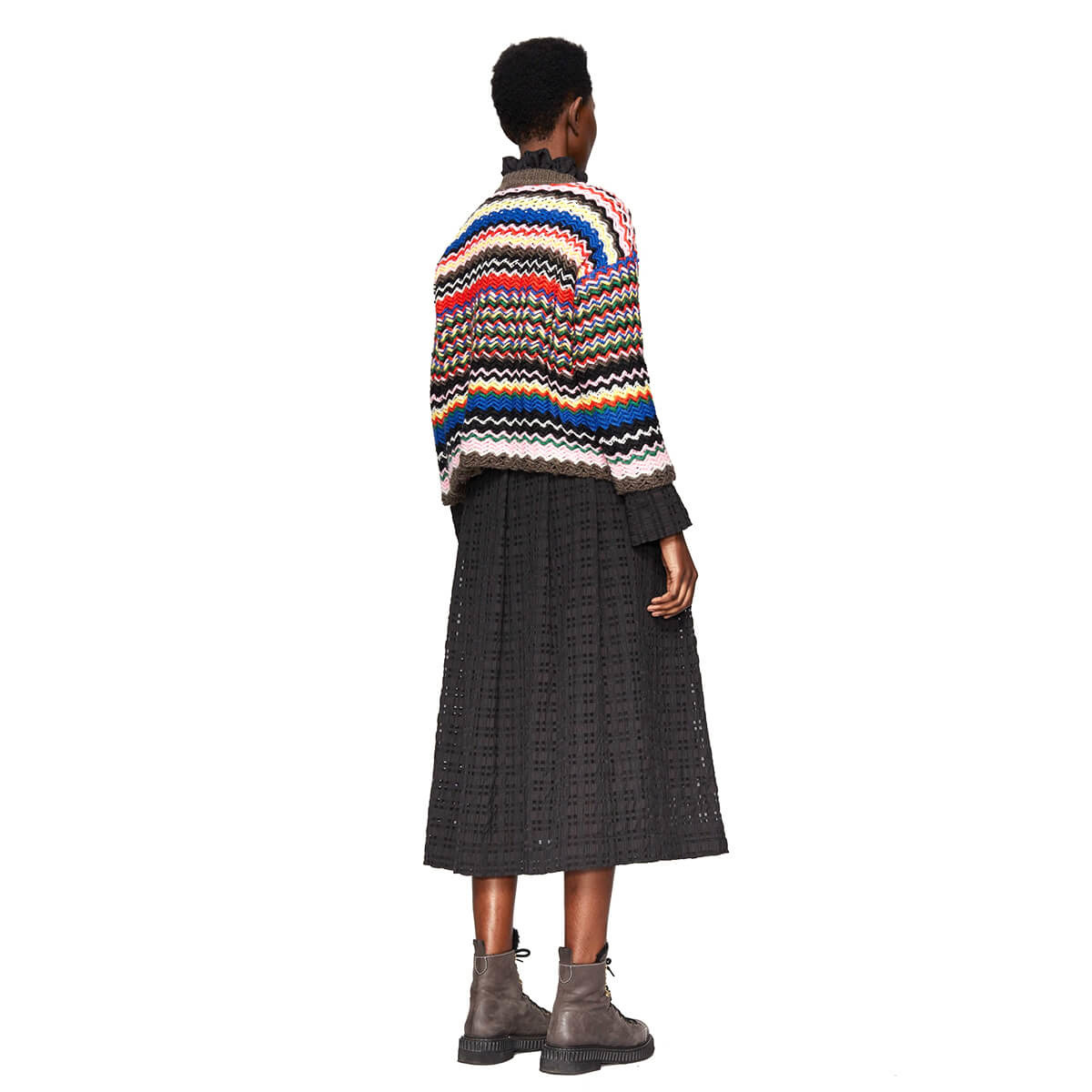 Extravagant knitted pieces in Ibiza style
Bring summer into winter! Ibiza is not just about summer, sun and sand. You can easily bring the look into the cold season with colorful and unusual tops, pants and skirts. Knitwear tops and coats are particularly popular in winter. No wonder: Knitwear is no longer old fashioned, but absolutely in. There is nothing nicer than snuggling up in comfortable sweaters, cardigans, knitted dresses and cardigans. Whether coarse or fine knit, made of cashmere, wool or cotton - the main thing is that the trendy pieces are cozy and stylish. Knitwear not only keeps you warm, it is also an absolute eye-catcher. With a slightly oversize cut and extraordinary lengths, colors and patterns, knitted tops go with every outfit.
A bit of extravagance is a must
With extravagant knitwear and sweaters, life is simply fun! The bright colors and unusual patterns not only attract attention, but are guaranteed to make you an eye-catcher! If you like it really unusual, then combine your extravagant sweaters and cardigans with colorful skirts or eye-catching jewelry - the more colorful, the better! But even for those who just want a bit of extravagance, unusual knitwear and sweaters offer all possibilities. The Gloria Jumper by Hayley Menzies, for example, impresses with its simple yet unusual embroidery and materials. It is made from a blend of wool and alpaca, which makes it super soft to the touch. If you like things a little more colorful, you can add stylish accents with the Jodi Sweater by Stine Goya. Combined with a nice pair of jeans or a skirt and overknee boots, the nice sweater is guaranteed to make your cold and gray winter days brighter and more colorful. You always make the right choice with the Etta Jumper by Hayley Menzies. The fringes on the sleeves and chest give it an extraordinary look that is guaranteed to catch the eye. The intense red color goes very well with the cold season and brings color into your life.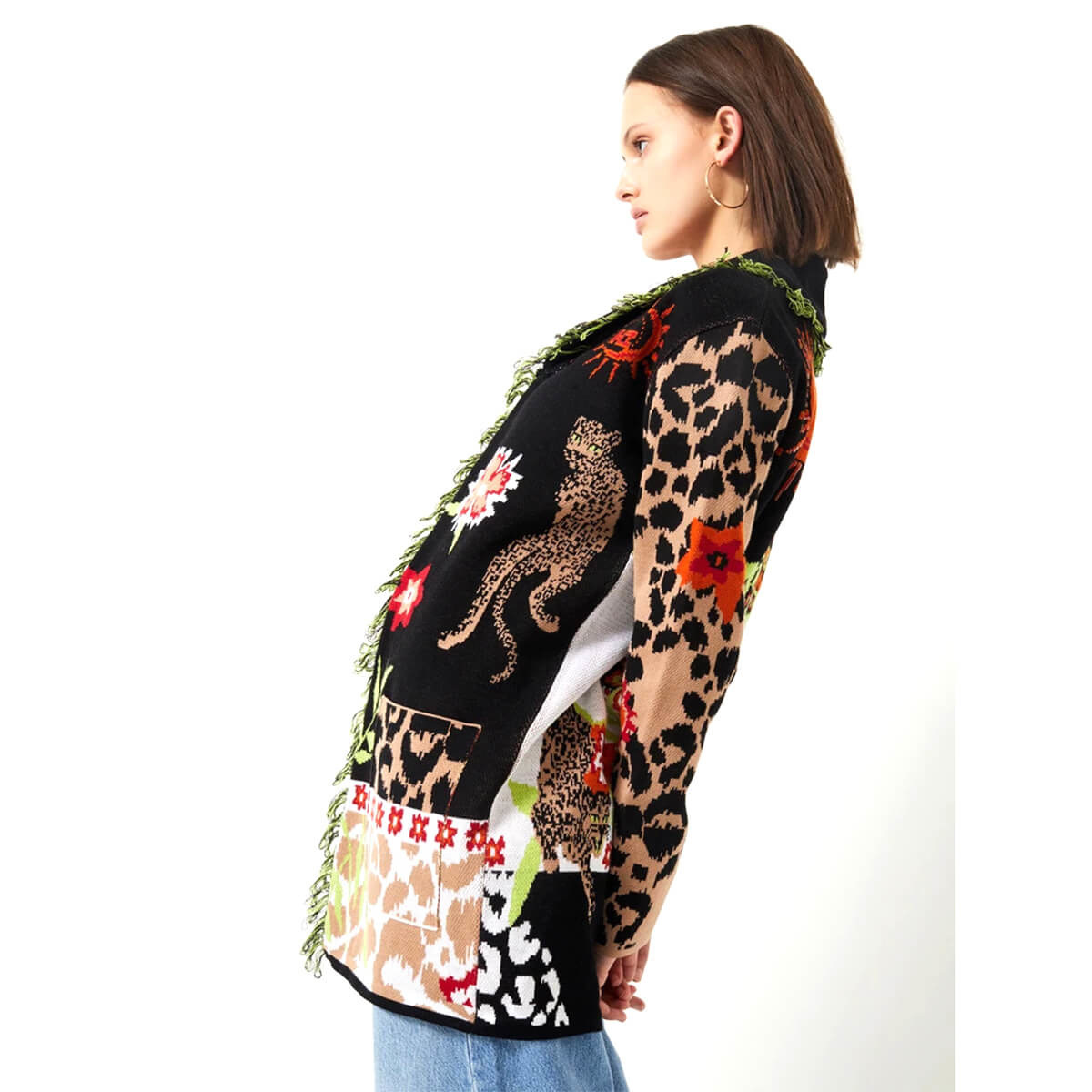 Stylish cardigans with that certain something
Extravagant cardigans are simply a must! They donate warmth and also make the wearer look really good. They are available in many different colors and cuts - there is something for every fashionista! With the Enchanted Leopard Cardigan by Hayley Menzies you bring out the leopard in you and make an absolutely extravagant fashion statement. It is available in different colors and lengths so that you are well protected in any weather. You can also snuggle up really nicely in the Gloria Cardigan by Hayley Menzies. It consists of a soft mix of wool and alpaca wool and is enriched with beautiful floral embroidery that is a real eye-catcher. For more sun in your life, just wear the Drifters merino wool cardigan in pink and yellow. The short cardigan is made of merino wool and can almost be considered a work of art. Bring out the bright colors of the jacket by combining it with your favorite jeans or a white t-shirt. Then nothing can stop you!

Extravagant cardigans upgrade every outfit and bring joy into the gray days. And the best part about it? You can not only use the cardigans as a jacket, but also wear them as a top. So it's a win-win situation!
The best possible combinations for unusual knitwear
If you want to put your unusual sweaters and extravagant knitwear in the limelight, the best thing to do is to go for simple trousers and skirts. The Attic and Barn Rosselini Pants, for example, go perfectly with the Tiger Head Jumper by Hayley Menzies. Eye-catching accessories such as the Papagayo Arbouze earrings from Thaikila can be.
Simple skirts like the Fem with Care Vinyl Skirt by Stefania Marra also perfectly showcase your extravagant knitwear. Combined with casual over-the-knee boots et voilà - the perfect Ibiza look for autumn and winter is ready.

But of course the same applies in winter: If you like it colorful and freaky, don't be afraid and combine two extravagant pieces with each other. The more colorful the better!

Extravagant knitwear in the Chips shop
We have many brands in our range that not only offer absolutely high quality, but also unusual and beautiful knitwear. Whether Hayley Menzies, Stine Goya or Attic and Barn - the variety of our brands and their products inspire us again and again. Unusual colors alternate with fashionable cuts, unusual patterns and super comfortable fabrics - that's a good way to live even in winter!

Discover our extravagant collection of knitwear now and browse through our range. You are guaranteed to be amazed!