When we hear Ibiza, we automatically think of sunshine, wonderful white beaches, small hidden bays, fantastic food, great parties, unique styles, positively crazy, happy and extravagant people and fashion. We simply love this island, which also has so much to offer in terms of fashion like hardly any other place. That is why we are introducing you to a Favorite Place below, which you simply do not want to leave once you have been there. Today we take you to one of our absolute favorite places on Ibiza: Sa Trinxa.
The Sa Trinxa beach bar on Playa de Las Salinas
A place where you can experience very special Ibiza moments is a small beach bar called Sa Trinxa on Playa de Las Salinas.
Everyone who travels to Ibiza for the first time naturally inquires about the most beautiful beaches.
As is known, there are some of them, but one name will definitely always come up: the beach of Las Salinas.
Or - as they say in Ibiza - Ses Salines.
The beach is named after the salt fields that you cross on the way, a nature reserve and one of the most interesting landscapes on the island.
There is also the small picturesque church of Sant Francesc de Paula, where we got married.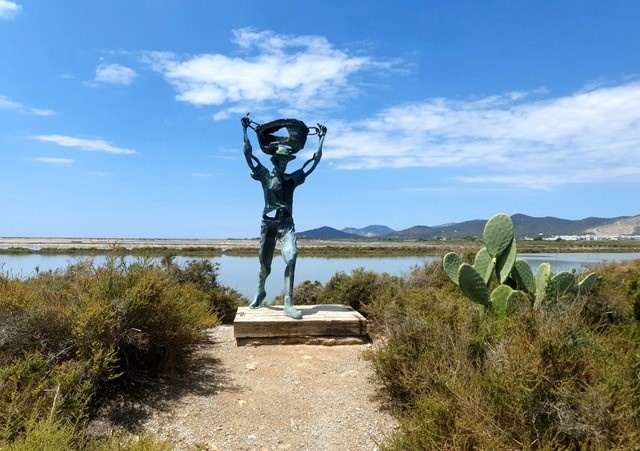 Ibiza fashion and shopping on Ses Salines beach

From the parking lot, the path leads past a small boho boutique worth seeing at the Beach Club Jockey Club. Here you can find Ibiza fashion from local and international designers. From beautiful, colorful Ibiza dresses in boho and hippy chic style to unusual swimwear, bikinis, swimsuits and tunics to jewelry and other accessories, you can browse through a literally colorful assortment.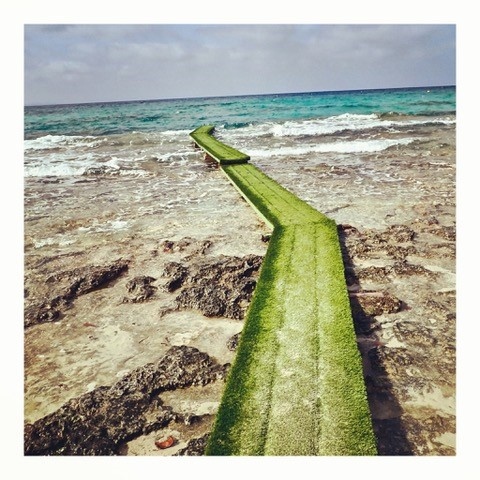 The route is the goal
From a distance you can already see the chiringuito covered with palm leaves and the legendary footbridge covered with artificial turf that leads directly into the crystal-clear water.
After a five-minute walk along the beautiful beach, past Pepe, a local who spends his entire life playing guitar here, we have reached our goal - the beach bar Sa Trinxa.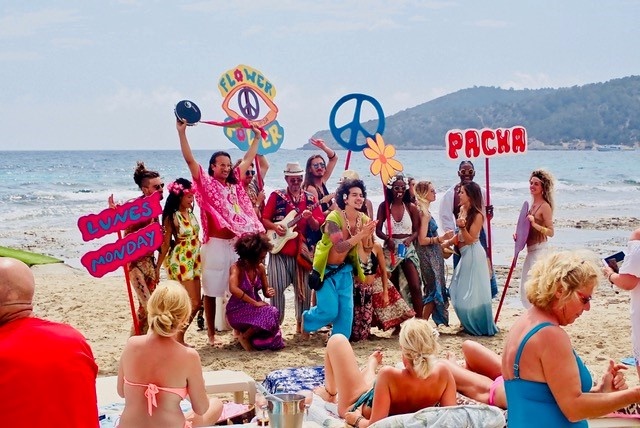 Sa Trinxa - Ibiza's attitude towards life

It is worth coming early in the morning, as the likelihood of getting one of the comfortable loungers is very high. This is particularly worthwhile if you want to stay the whole day. And a parasol for a little siesta is of course not wrong. In addition, you can calmly and calmly chill out with a fantastic sound

Enjoy Café con Leche and a delicious tostado with Jamon Serrano and Queso Fundido before you make yourself really comfortable on your lounger.

Around noon it gets crowded quickly, as the late risers get up slowly. The entertainment begins around 1 p.m. with DJs changing daily.

After a few sangrias with cava, which usually flow around lunchtime (after all, you're on vacation), one or the other dance leg is swung quite quickly.

The atmosphere that prevails in this place is second to none, even here in Ibiza. So many different, crazy and happy people who live and let live.
Colorful beach fashion
This diversity and individuality is also reflected in the fashion in this enchanting place.
Colorful bikinis and swimsuits in a wide variety of cuts and shapes.
Dresses and tunics are thrown over to cover the way from the beach to the chiringuito in the most stylish way, where you can have a delicious lunch or dinner.
The clothes are elegant, extravagant and colorful.
Crazy sunglasses, head scarves and hats wherever you look.
A sight that makes the fashion heart beat faster.
Looking around here is a real delight and is guaranteed to put a smile on every face.
Sa Trinxa is our absolute favorite place on an island that is teeming with great places.
We recommend this place to anyone who loves, lives and shares Ibiza's cosmopolitan and positive values.