Posted on
By Chips Fashion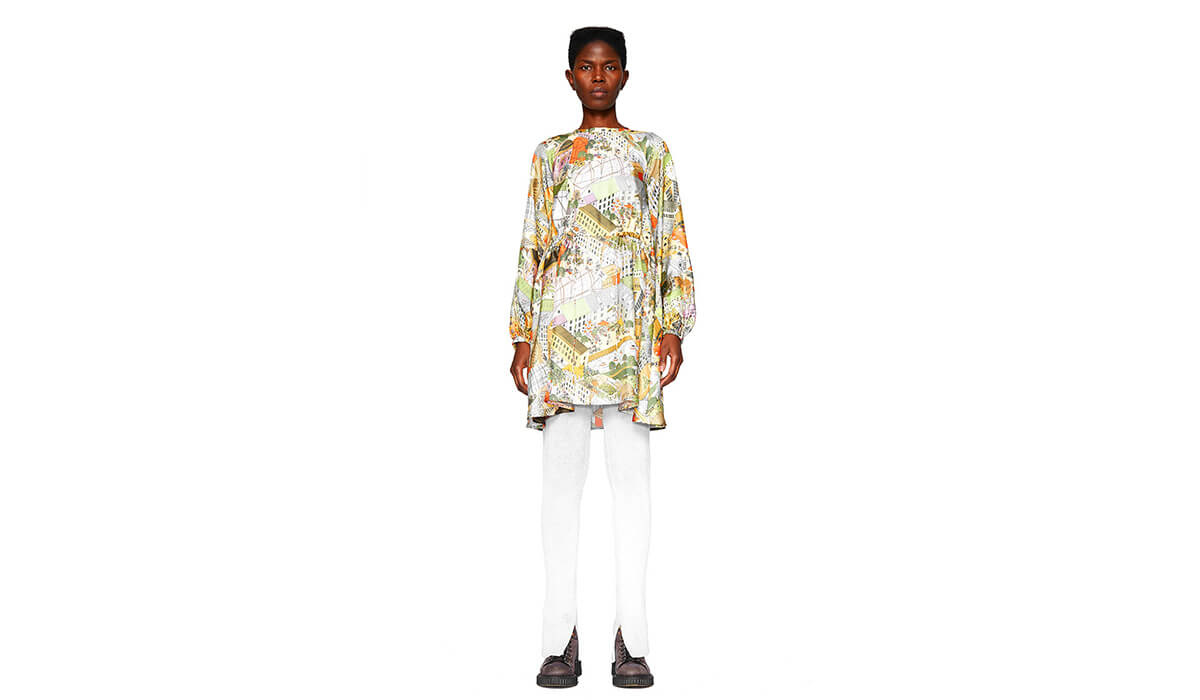 The Scandinavian style , as you know, is killing out there! With its light-hearted, colorful and extravagant tone it is winning the hearts of all fashion victims, like us. So how does this Nordic style fit in with our bohemian style? One word Stine Goya!
Who is Stine Goya?
"The colors are fascinating and tell many stories, from grandiose or dramatic tales to intimate poetry. For me, colors are an inexhaustible source of inspiration; an almost raw material that I love to develop further. Colors can be mixed in infinite ways, creating new shades that tell personal stories of color, style and print.
I love them."
- Stine Goya

The designer Stine Goya founded her independent label in 2006 in the beautiful and colorful city of Copenhagen. Her four annual collections (Fall / Winter, Pre-Spring, Spring / Summer, Pre-Fall) are the result of the inspiration that the designer draws from the countless artists she loves (for Ex.coco dress city) All this mixed with passion and love for bright colors and extravagant prints.

The international interest that many are showing in his work is incredible and grows from year to year.

His unique, colorful and, in some ways irreverent, style is what struck us in the first place. The dresses with large volumes, the extravagant prints matched to each other even in striking contrasts, make her collections perfect for our beloved online shop.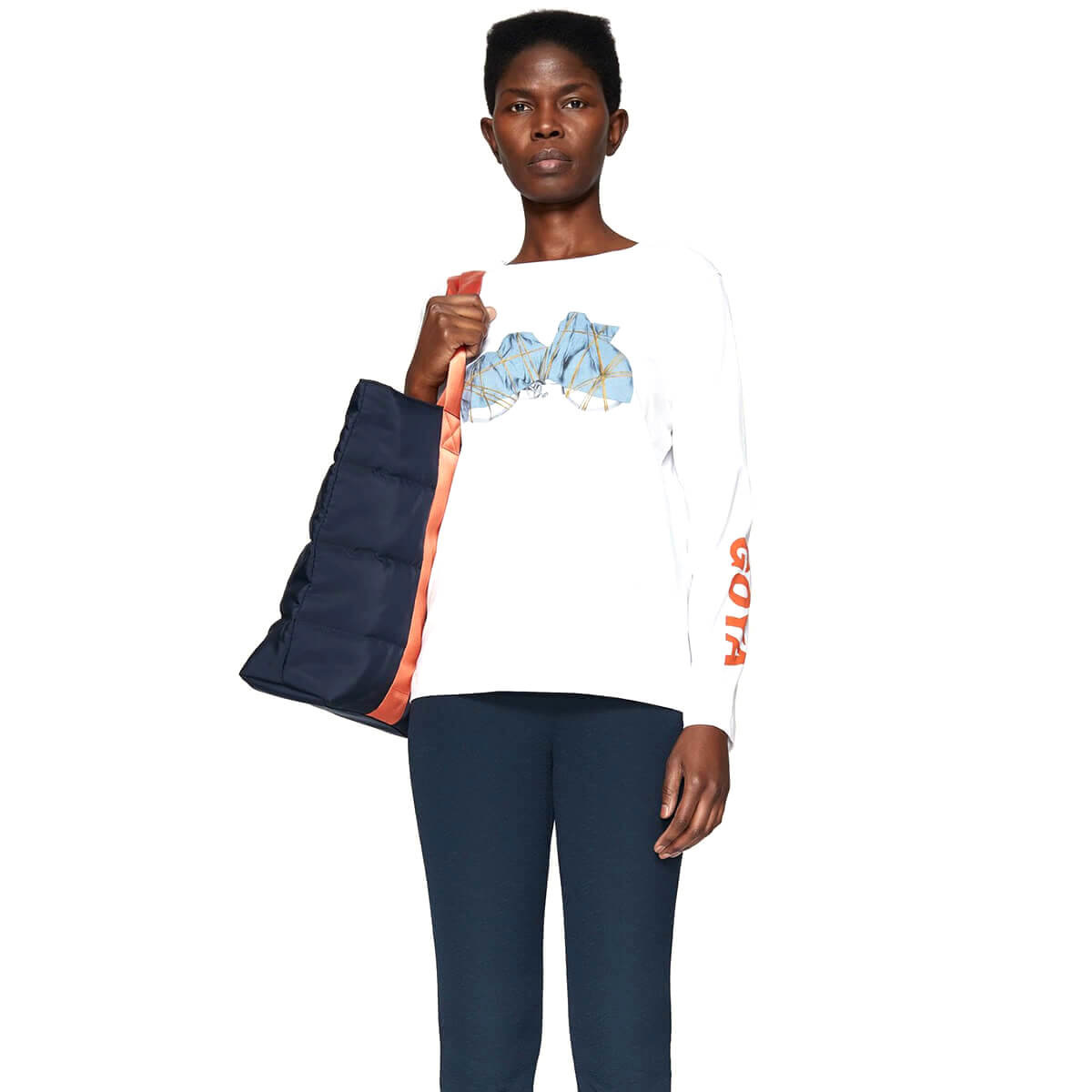 Stine Goya and sustainability:
The talk of sustainability, right now and on everyone's lips. We at Chips Fashion believe that eco-sustainable fashion is possible and absolutely important in such a delicate moment as ours. Stine Goya also cares about this topic and, for this reason, she uses recycled polyester and plastic for her garments and packaging products. (e.g. roxanne top bike)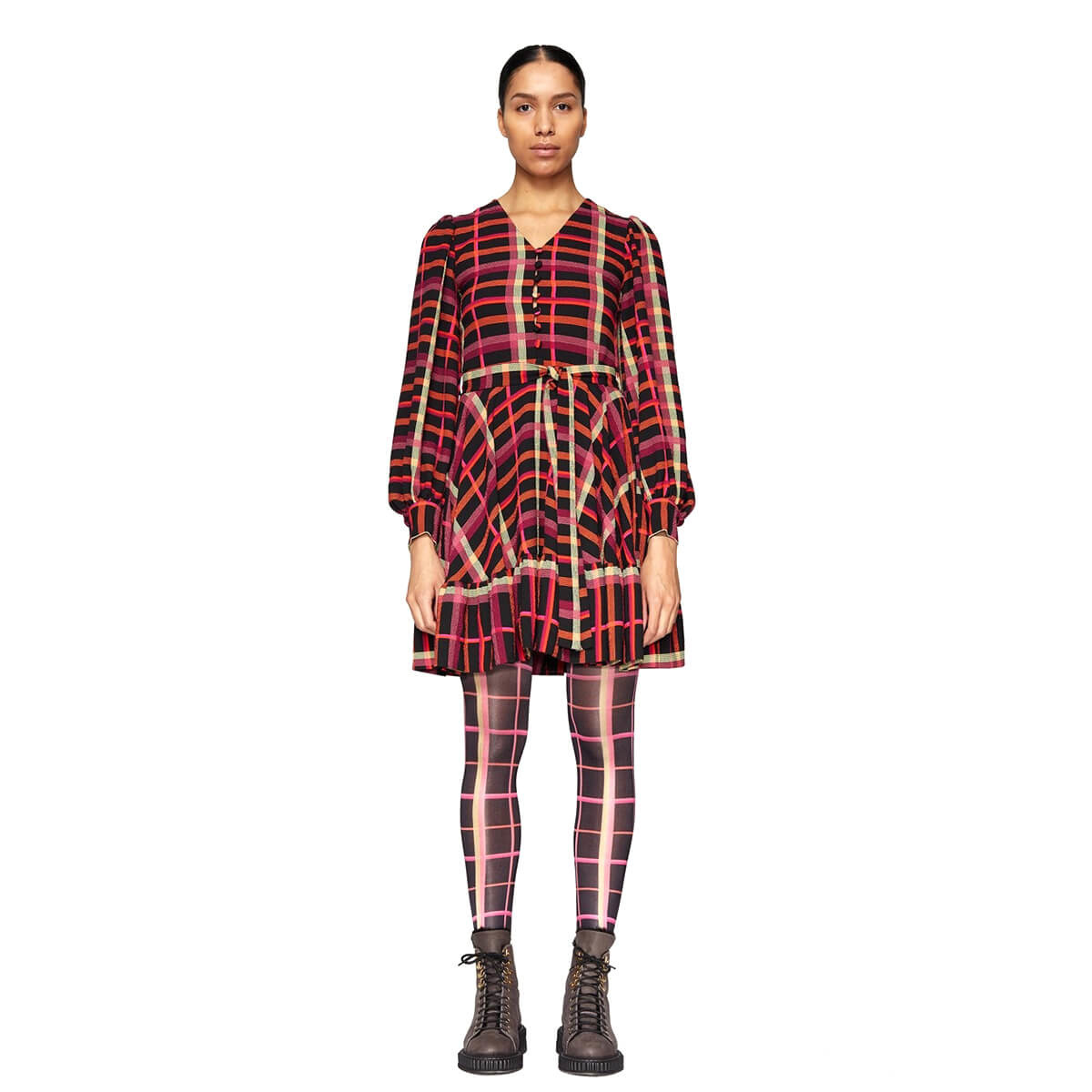 Stine Goya and her Must Haves!
Stine Goya is famous for her clothes. Dresses with airy but always feminine cuts, such as the Jasmine dress cosmos ,are her trademark. Perfect clothes for any occasion, which adapt to simple looks with boots and tights in solid colors, or more complex ones with different layers and volumes with the addition of skinny pants, chunky sweaters and tights with the same patterns (e.g. farrow dress plaid with the  vero stockings plaid). In short, a real gold mine for all fashionistas who love colorful and extravagant dresses! The best thing is that all Stine Goya garments are perfectly matched to each other in full Scandi style! Layer the colorful sweaters on top of these fantastic dresses and have fun creating new extravagant outfits to smash your friends!

Scandi style in the Chips Fashion online shop:
In addition to this fantastic and colorful new entry we have, as always, our other loyal brands such as Attic and barn, Stefania Marra Stma and Michaela Buerger which with their fantastic workmanship lend themselves to extravagant and high-impact combinations. Our beloved Hayley Menzies who, with her maximalist style, is perfectly suited for the creation of scandi looks, where you can mix different patterns and fantasies. And last but not least our eco-sustainable down Jackets of Ecoalf, made from recycled plastic bottles, perfect to represent the perfect Scandinavian style.

Indulge yourself in choosing your next outfit, and always remember that ... #chipssuitsyou!